19th March 2019
Bath Half Family Fun Run 2019
getting active
The Family Fun Run at the 2019 edition of the Bath Half Marathon saw an unprecedented number of wheelchair and powerchair users complete the ¾ mile course.
A combination of both children and adults from Bath Romans Wheelchair Basketball Club and Frome Falcons Powerchair Football Club tackled the Fun Run in a bid to promote greater inclusivity of people with disabilities in the Bath area.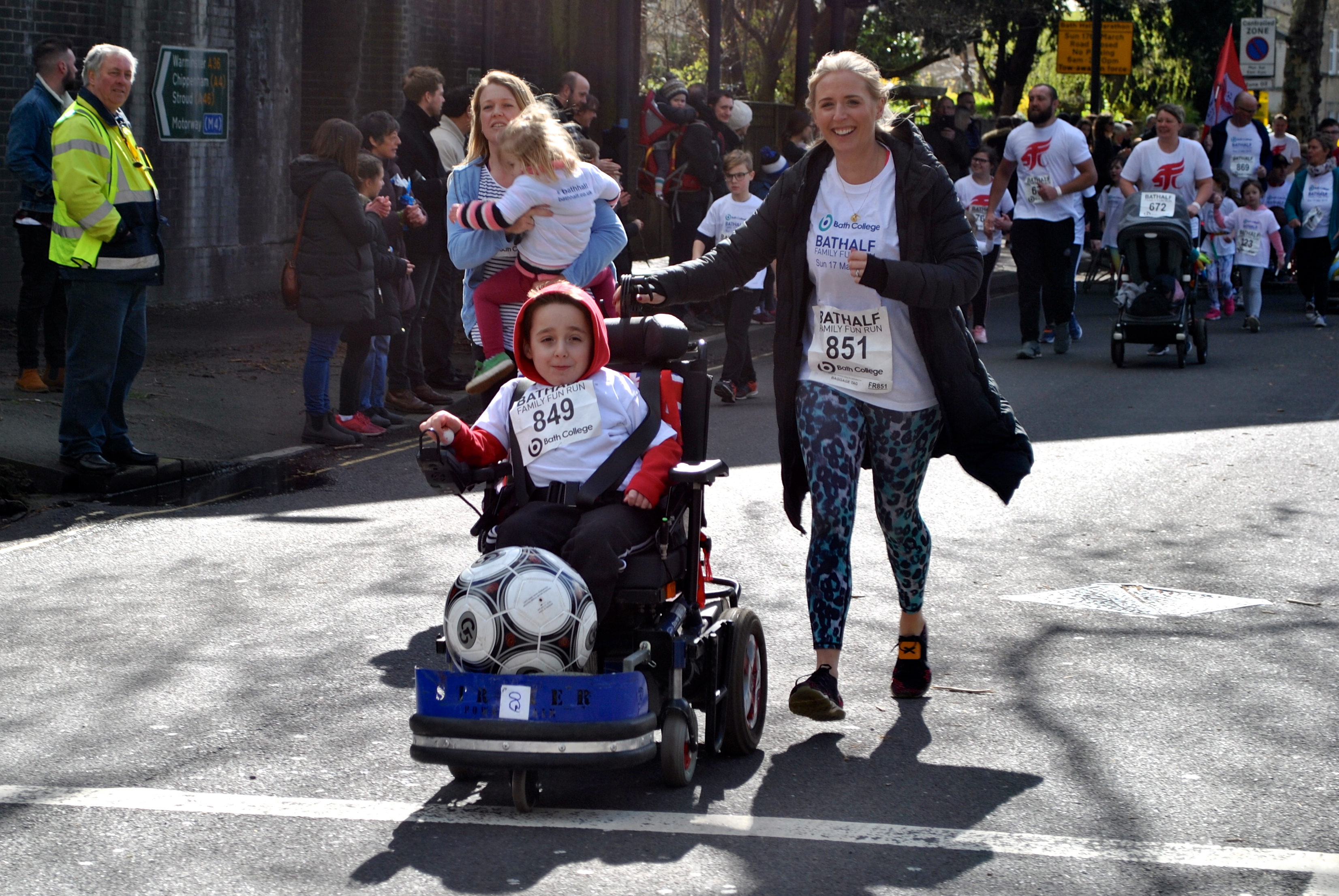 For one participant, it was a huge dream come true. Alfie, 9, watches the race every year and on many occasions has begged his Dad to take part. As a daily powerchair user however, Alfie  has not been able to.
Due to the efforts and flexibility of the Bath Half organisers this year, the 2019 Fun Run was the first time Alfie, a keen powerchair footballer, was able to participate with his twin brother and his Mum.
Alfie was also joined by his fellow powerchair football team--‐mate Joe Moran, who for the first time was able to race against his twin brother, Ed, who ran along beside him.
In addition to the two boys, a total of 11 participants representing the Bath Romans Wheelchair Basketball Club and Three Ways School pushed their way over the distance and across the finish line. Amongst the team taking part were people with a variety of different disabilities, including amputations, lower limb impairments and learning disabilities.
The whole day was a monumental success for everyone involved, and was all thanks to the joint efforts of the Bath Half Organisers, Three Ways School and Nova Sports and Coaching.
Whilst there were no [literal] steps forward during this event, there were some mighty pushes in the right direction for a more integrated and inclusive community across Bath. Well done to all participants involved!
If you are interested in finding out more about wheelchair basketball or powerchair football, please see www.novasportsandcoaching.co.uk.