Tackling racial inequality
We can confidently say as a whole team, including our Board of Trustees, that we most definitely do have a role to play and a responsibility to fulfil our commitment to become an anti-racist organisation and proactively tackle the racial inequalities that prevent or discourage people from leading active lives and enjoying the benefits of sport, physical activity and movement.
This confidence and clarity does not mean we have all the answers, in fact, we can openly admit to being very early on in our journey.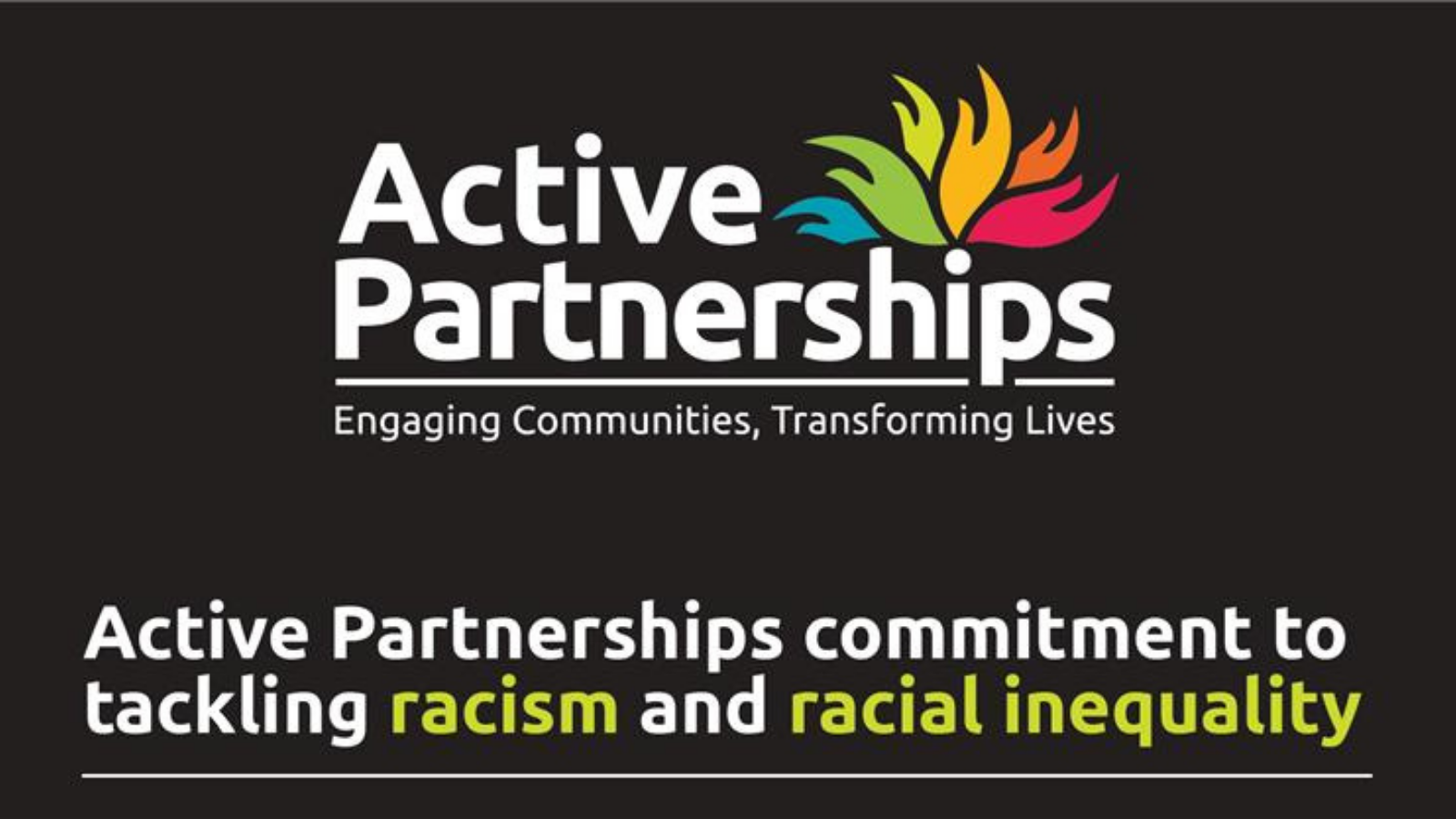 We recognise that for many of our team, the personal and organisational journeys are very much intertwined and one will impact on the other. Everyone's journey will be very different and that is totally fine. We all need to navigate this space in a way that works for us, some will focus on the organisational journey, whereas others need to move forwards personally at the same time. We respect these differences. For some team members, their focus is on action and tasks, for others space is required to talk and understand more about race.
Here is a snapshot of the work we have been doing so far…….
Work Programming
Race Equality has been added to our operational planning so that the whole team can continually feed in the work they are doing that contributes to our commitment to being an anti-racist organisation. This is an important way to ensure a shared ownership and commitment is achieved and maintained. It encourages all team members to see how their work areas impact on this segment of our operational planning.
We have had two whole team action planning sessions, the most recent being an away day at the end of June. This is a way for us to formalise our action plan in this area of work and clarify the roles and responsibilities we all have. This will ensure we can hold ourselves accountable to taking actions and maintaining momentum. Regular discussions around race and race equality have also taken place at weekly team meetings and this will continue moving forwards.
Our CEO, Steve Nelson, has been heavily involved in the work being driven by the AP Directors. This has been really beneficial to us all as we have listened, learnt and benefitted from the sharing of this work and direction of travel of the network as a whole. It did also raise some questions internally. We were very conscious to ensure that this work didn't end up solely with Steve, so one of our Project Managers has been given responsibility for this work area, with the knowledge and understanding that this is very much a whole team effort. We hope by having a lead in this area that this will help build momentum.
Whole Team Staff Training
All Wesport staff, including trustees have attended two 'How to be an ally' training sessions, facilitated by Bristol-based Interculture. These sessions took place in March and July 2021. The whole staff team also attended the AP Convention session on 16th March. Our latest team training in February 2022 was delivered by our partners Open Minds Active. We focused on two topics, breaking barriers around diversity and engaging women of colour in community sport and activity.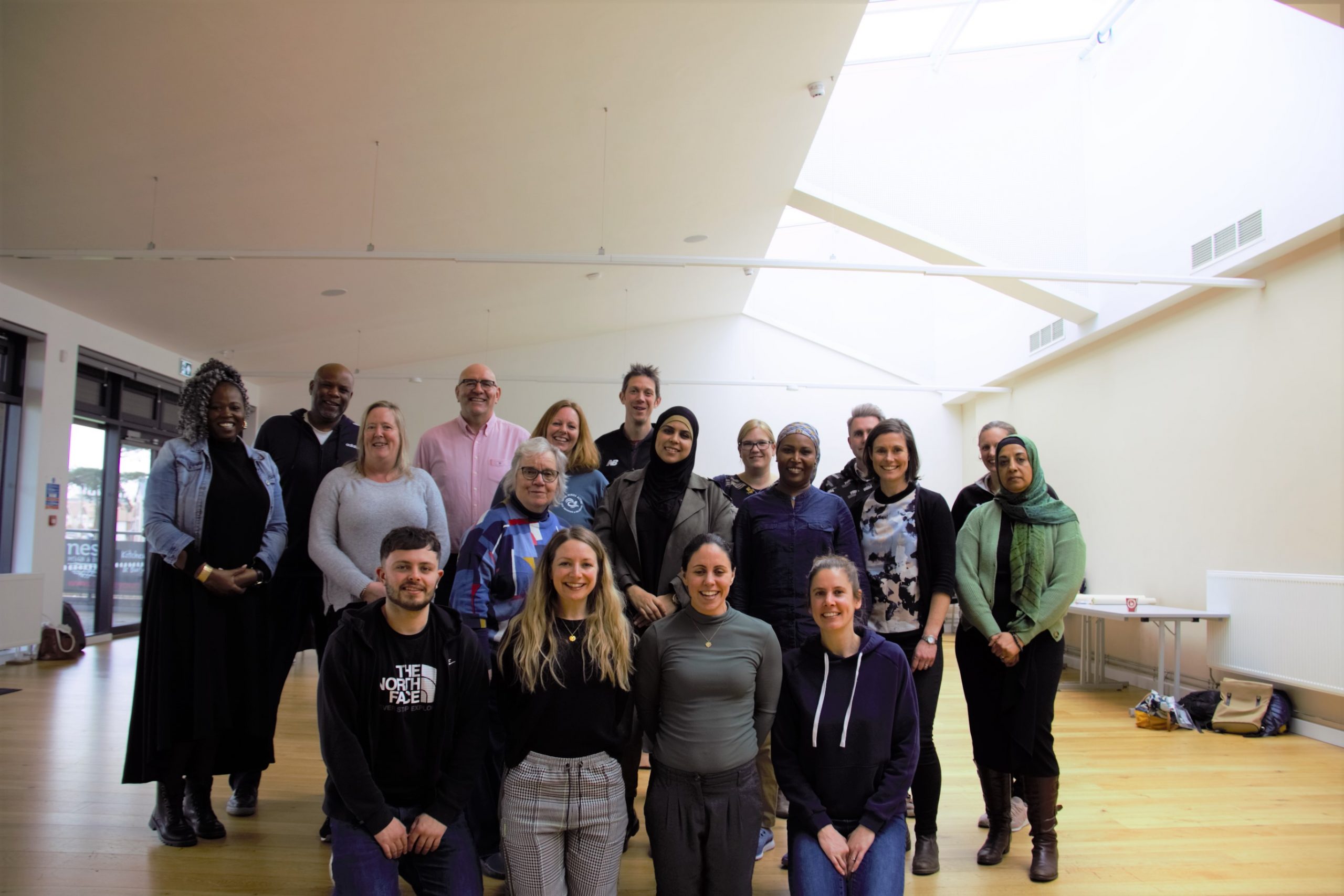 Other Staff Training
Individual staff members have attended training sessions with the learning then shared amongst the whole team through our team meetings. Training sessions include, Equality, Diversity and Unconscious Bias Training for VCSE Groups and Nilaari, Usawa Now' Multi Agency Webinar.
Prioritising Funding: Tackling Inequalities Funding:
We took the decision to prioritise a proportion of our phase 2 TIF funding to support Black, Asian and ethnically diverse communities. We worked closely with local partners including Voscur and Black South West Network to widen the reach of this work and ensure the investment was reaching black-led organisations. Phase 3 of TIF will see a continuation of this focussed work and a commitment to further understand how race significantly impacts on inequality.
Black Interns Pilot Project
Through our Business West connection, we were made aware of the West of England Black Interns Pilot Project. We signed up as one of 22 organisations. We have now interviewed and appointed an intern who will work with us for 4 weeks in September.  The programme is targeting Black students across the West of England who have graduated within the last 12 months. 
Recruitment
We are reviewing our recruitment processes to look at how we widen the places where we advertise our roles and in doing so widen our reach. We have been collating examples of adverts, terminology from local community organisations to help inform our messaging. In January 2021 we recruited 5 new trustees. We used an external recruitment company Moon Executive Search who were tasked with advertising the role to a wider network in order to grow the diversity of our board. Our board is more diverse than many, but we know we still have work to do.
Learning from Other Active Partnerships
We have had conversations with other Active Partnerships to learn how they are approaching and driving this work forwards. This learning has been so useful. A thirty minute conversation can provide so much, from reassurance that we are moving in the right direction through to practical advice and sharing of resources. The openness and willingness of these Active Partnerships to share their knowledge and resources has been fantastic.
Book/Film/Podcast Club
A few of us at Wesport love a good book and a good book club! This month will see the start of a new club where we will discuss books/films/podcasts and continue with our uncomfortable conversations around race in a safe space. This is totally optional and open to all staff and trustees. It won't be for everyone, but we hope it will be a positive and useful space for some. The first title we will be discussing is How to be an Antiracist by Ibram X. Kendi.
We have written two blogs about the Black Lives Matter movement and the work the Active Partnership networks are doing. You can read these by clicking the links below.
CEO Personal and Wesport Statement on #BlackLivesMatter | Wesport
Black Lives Matter – Active Partnership Network Working Together | Wesport