30th April 2019
Over 900 West of England young people showcase sporting talent at the 2019 Spring School Games
getting active
mental health
active education
Approximately 950 local school children took part in 2 days of competitive school sport as part of the 2019 Spring School Games held right here in the West of England. The events took place on Thursday 4th April at UWE Centre for Sport and Thursday 25th April at Bristol Grammar School Sports Ground and Ashton Park Sports Centre.
With great trepidation on what the weather would bring we opened the event at the great facility of Bristol Grammar School in Failand with blue skies and a hum of excitement in the air from gathering teams. With over 800 school children in attendance our athlete oath, spoken by Olivia from Combe Down Primary School set a great atmosphere for the day with players, spectators and teachers pledging to compete in the true spirit of the games.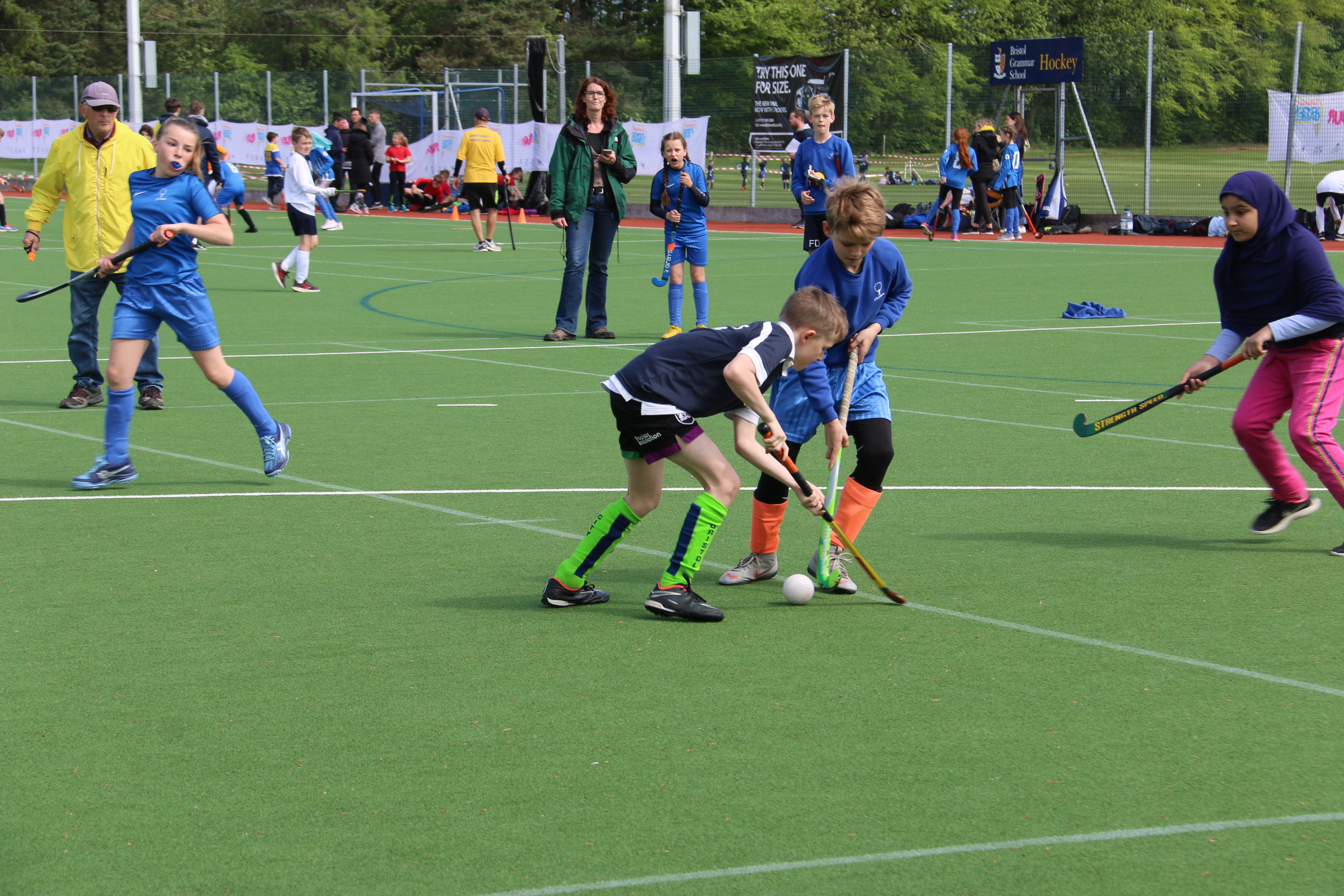 Players put their determination and sporting talent to the test in 9 different sport competitions. As the glimmers of sunshine continued, primary schools battled it out in sports such as Tag Rugby, Cycling, Netball and our first ever Archery/ Fencing/ Shooting multi-event, whilst Secondary pupils competed in Girls Football and Hockey. A number of these events were County Finals where participants had qualified through local rounds, with our newest multi-event being an Open Event allowing pupils to try their hand at new sports.
Our Handball competitions this year for the very first time were held alongside each other at Ashton Park School Sports Centre. We saw U13 Girls, U15 Girls, U13 Boys and U15 Boys competitions compete for a place in the regional finals being held in Paignton, Devon this week.  With lots of teams together cheering each other on it made for a great atmosphere.  We have seen the standard of play across the board improve this year with 4 different schools qualifying for the regional finals, some for the first time.
For the second year running an Inclusive Sports event was held on 4th April. Pupils aged from 7-11 with special educational needs and disabilities participated in Boccia, New Age Kurling and Sitting Volleyball. It was fantastic to see the genuine enjoyment on the faces of so many children who previously would not have had many opportunities to participate in sports and compete for medals.
The School Games is a national Olympic and Paralympic legacy programme designed to provide a competitive school sport environment for local school children. Funded by Sport England and organised by Wesport and the local School Games Organisers, the School Games programme provides a competitive school sport structure and pathway for young people in the West of England. The events are also heavily supported by Young Leaders from local schools, sports clubs and National Governing Bodies.
Andy Blackmore, Wesport's Senior Project Manager said:
"This year's Spring School Games was a fantastic celebration of the West of England's best young sporting talent. BGS is always a fantastic event with the amazing facilities allowing us to host such a broad range of competitions – the weather forecast was pretty poor but we were really lucky and only had a couple of showers! The young people displayed an impressive level of ability, sportsmanship and determination, and our new Archery/Pistol Shooting/Fencing has hopefully inspired a number of children to live a more physically active life."
Some of the highlights of the 2019 West of England Spring School Games included:
Cycling:
We have seen great development of our Primary Cycling competition at the Spring School Games. Although being introduced as an Open event 2 years ago, this was the first year School Games Organisers ran their own local cycling events with the top teams going through to our County event.  Despite the varying weather across the local cycling events, with support from British Cycling they proved hugely popular with the schools and fun was had by all.  It was great to see this same spirit carry through to our county final which saw St Bonaventure's take the Gold medal, with Golden Valley and Beacon Rise finishing 2nd and 3rd respectively.                                                               
Tag Rugby:
The Year 5/6 Tag Rugby is always a popular event, with 16 primary schools battling it out in the bid to be crowned County Champions. After some very high standard, tightly fought games including a golden try, Saltford C of E Primary School finished with Gold medals round their necks, with St. Stephen's (S. Glos) taking Silver and St. Bonaventure's taking Bronze.
Girls Football:
The U14 Girls Football ran for only the second time at the Spring Games this year on the fantastic 3G pitch at BGS. The players showcased a very high standard of football and it was great to see some new local talent. We hope some of them will be encouraged to join clubs after this event.  Following the group stages, and after 3 penalty shootouts final results saw Bedminster Down, Hanham Woods and Mangotsfield finished 1st, 2nd and 3rd respectively.
Inclusive Sport:
Following on from last year we have continued to develop the number of inclusive sport opportunities as part of the School Games programme. For the second year running, School Games Organisers ran their own local events in Boccia, New Age Kurling and Sitting Volleyball with the top teams going through to our County event. 12 schools took part in both Boccia and New Age Kurling with some very close scores at the end of the group stages, but Beacon Rise Primary School managed to take Gold in both competitions. Fosseway, Compass Point, Mead Vale, Westfield and Barrs Court also took home medals. Sitting Volleyball proved hugely enjoyable for all involved, The Park Primary School finished in 1st Place with Mead Vale in 2nd and May Park 3rd.
For more details, please visit www.wesport.org.uk/schoolgames or email info@wesport.org.uk.
For event photos please click here.