Time to Listen
Time to Listen is a training programme developed by the Child Protection in Sport Unit (CPSU) specifically for people who have a designated role in safeguarding within a sports setting. Time to Listen is a three hour workshop for Club Welfare Officers (CWO).
Duration: 3 hours
Group size: 12-20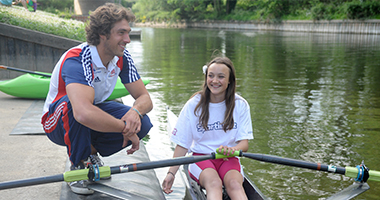 CWOs must have attended a Safeguarding & Protecting Children workshop previously and will need to bring their own reporting procedures to the workshop. Please ensure that your National Governing Body accepts the multi-sport version of this Time to Listen course before booking*.
The workshop will:
Describe how a club welfare officer works with others to create a child centred environment
Explain how the club welfare officer role fits into the wider safeguarding environment
Apply learning to case studies including sharing good safeguarding practice
The course is interactive with group activities and discussions and helps Club Welfare Officers to understand their role and be most effective.  It gives the opportunity to share experiences and reflect on how to make Safeguarding in the Club 'live'.
private or 'closed' workshops
If you would like us to organise a workshop for your club officials, coaches or volunteers we can organise a 'Closed' workshop for you (maximum number of attendees for this workshop is 20). We charge a one-off fixed fee and will find a tutor for you, register the workshop and provide resources where appropriate.
If you would like to find out more information or you would like to arrange a 'Closed' workshop, please email: info@wesport.org.uk or call: 0117 328 6250.
*Please note the following organisations accept this multi-sport version of the Time to Listen course:
Boccia England, Bowling Development Alliance, British Fencing, England Handball, Goalball, British Shooting, British Water Ski & Wakeboard, Wheelchair Basketball, Wheelchair Rugby, British Rowing, Angling Trust, Badminton England, Baseball, Softball, British Canoe Union, British Equestrian Federation, British Judo, British Mountaineering Council, British Orienteering, British Triathlon, British Weightlifting, British Wrestling, Golf, England Basketball, England Netball, England Squash & Racketball, England Lacrosse, Table Tennis, Pentathlon GB, Royal Yachting, Rugby League, Snowsport England, Volleyball England, Archery GB, Rounders England, British Akido Board, Royal Life Saving Society and Surf Life Saving.
NB – Boxing England and British Cycling Federation will accept the multi-sport version until they roll out their own sport-specific version in the near future.