9th May 2022
Together Fund Launch
Wesport have been administering the Tackling Inequalities Fund (TIF) since April 2020. As an immediate response to the pandemic, Sport England channelled investment which helped reduce the negative impact of the coronavirus and the widening inequalities in sport and physical activity.
Insight was showing that certain groups were being disproportionately affected by the pandemic and it was significantly impacting their ability to move more and be physically active.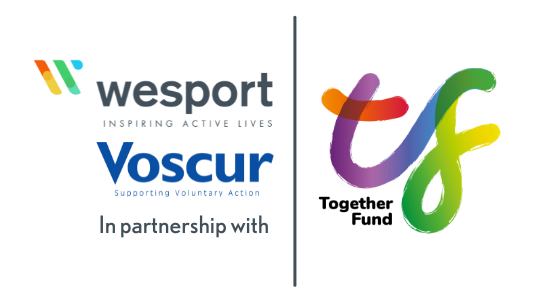 TIF was focussed on four key audiences, the Together Fund will also focus on these priority groups:
Culturally Diverse Communities
Disabled People
People with long-term health conditions
People on low incomes
In partnership with Voscur – the support and development agency for Bristol's Voluntary, Community, and Social Enterprise (VCSE) sector, we will distribute £380,000 of funding to community organisations across the West of England. Our collaboration brings together a focussed plan to support partners who can respond to the guiding principles of the Together Fund. This partnership has managed £600,000 worth of TIF funding across the West of England supporting 108 community partners to use physical activity to reach priority audiences during the toughest restrictions during a worldwide pandemic.
We are excited to continue our partnership which sees us launch the Together Fund and request applications from partners who can support the priority groups this fund is aimed at. This fund has already supported local partners who have designed their support around the changing environment and needs of their communities. The Together Fund will still aim to help partners respond to this changing need but aims to support partners to recover and grow.
In order to ensure the Together Fund reaches the priority audiences across the West of England we are utilising the strength of our VCSE partners in each of the unitary authority areas:
BANES 3rd Sector Group in Bath & North East Somerset
CVS South Gloucestershire in South Glos
Voluntary Action North Somerset VANS in North Somerset
Voscur in Bristol
Mark Hubbard, Interim CEO of Voscur says, "Voscur is delighted to continue our involvement in this ground work. Through 100+ grants and direct support provided by Voscur and partners, we have helped many people keep active and have supported many community organisations to keep going through the pandemic. This next round will focus on helping community organisations to be sustainable as we move from crisis to recovery."
Please visit the Together Fund page on our website to access the application forms and supporting information. We have created a short introduction to the fund and the aims locally which we urge any potential applicant to view ahead of starting an application.
To see examples of previously funded projects please visit the Tackling Inequality page.