11th September 2020
Gymnastics Helpline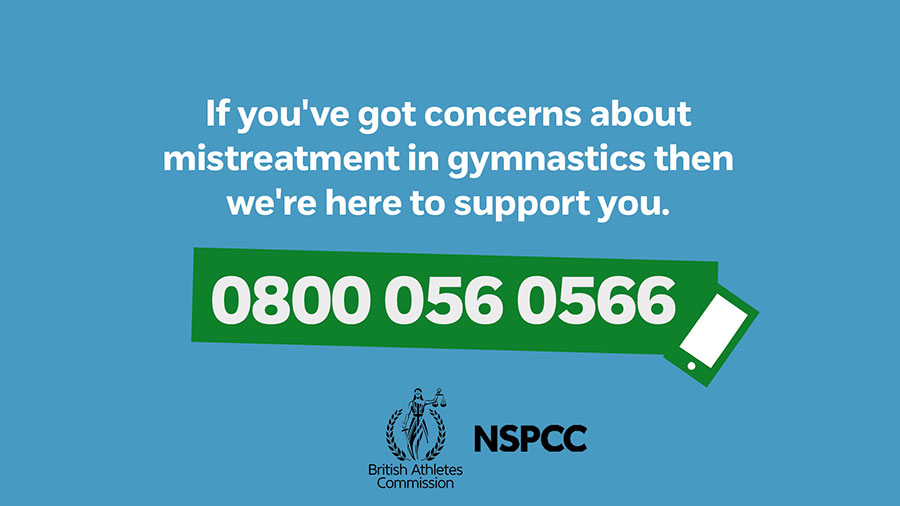 If you have any concerns about bullying or abuse within gymnastics, you can talk to a professional counsellor by calling 0800 056 0566 or by emailing help@nspcc.org.uk.  
This free and confidential helpline is open 8am-10pm Monday to Friday and 10am-6pm on weekends – or you can email anytime.
This will be a single point of contact for individuals to raise their concerns and receive support and guidance, regardless of whether they are funded athletes, former athletes, community-level athletes or parents.
The helpline is also a safe space for whistleblowing and will offer athletes the opportunity to input into the recently announced Independent Review at the appropriate time. 
Peter Wanless, NSPCC Chief Executive, said:
"The reports emerging from gymnastics in recent weeks have been extremely disturbing – so, with the BAC, we've launched this dedicated helpline as it is absolutely vital that anyone who has suffered abuse has the opportunity to speak out and get the help they need.
"We would also urge anyone involved in gymnastics who has safeguarding concerns to contact the helpline in the knowledge that they will be listened to. We are grateful to the BAC for their support and commitment in setting up this important service."
Sam Little, BAC's Head of Athlete Support, said:
"We applaud the bravery and courage of those who have spoken up and shared their experiences. Bullying and abuse have absolutely no place in modern-day sport, and that's why, with the launch of the helpline, we are unveiling what is just the first step in our ambitious package of athlete support measures.
"We want to provide a safe place for athletes and others to come forward and seek support and advice. Anyone who has experienced or is experiencing abuse in gymnastics, or who has concerns about the welfare of any gymnast should call this NSPCC helpline – by doing so, you are helping make sport a safer, more welcoming place for the athletes of tomorrow." 
The BAC will release further information about its Athlete Support Unit at a later date. BAC members can, in the meantime, continue to raise concerns directly with the BAC athlete support team by emailing – support@britishathletes.org.